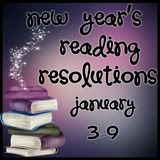 So last week I took part on the New Years Reading Resolutions Giveaway! I had over 100 unique entries. Craziness!!! Thanks to all the people who decided to follow my blog! I hope you won't regret it. :)
Without further ado the winner of my New Years Reading Resolutions Giveaway is:
Jennifer has 48 hours to claim her prize! If she doesn't then I will pick a new winner. Congrats!!!!!
For those who didn't win, don't worry! I have another giveaway going on right now for an awesome READ bracelet! You can enter to win that here.
I'll also be having several other giveaways going on in February so be sure to check back and enter those too.
Congratulations again to Jennifer!!!!
Julia :)